Milton Inn Awards

At The Milton we are proud of the hard work the team puts in to make our business successful. Here are some of the industry accolades they have achieved.


In recognition of our quality The Milton Inn has been assessed under the EatScotland quality assurance scheme. For acceptance as an EatScotland participant, applicants must achieve a level of quality against a national benchmark in their respective food style. They are rigorously assessed for the inherent quality of their ingredients, presentation, culinary skills and service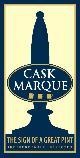 The Milton has been awarded the Cask Marque award. Cask Marque was set up to reward excellence in the service of Cask Beers. Random inspections are carried out twice a year by independent inspectors who will test all the cask beers on sale for appearance, aroma, taste and temperature, the beers must meet high standards in all 4 areas in order to retain the cask marque.The Milton has achieved a score of 20/20 on every inspection.